TTSS can supply and fit high-quality electric gates/automatic gates throughout Suffolk & Essex for less than you might expect.
Electric gates might seem like a luxury which is beyond your budget, but thanks to our competitive prices, you too could secure your property or commercial premises with a stylish and hardwearing set of high-quality gates.
Not only can we supply gates which have been designed to complement the style of your home or commercial building – providing an impressive finishing touch to its exterior – but we can also effectively enhance security by helping you to manage access to your site.
Automated gates might make access easier for you and your visitors, but they are also designed to make access much more difficult for unwanted intruders; enabling you to enjoy greater convenience alongside the peace of mind that your property is protected.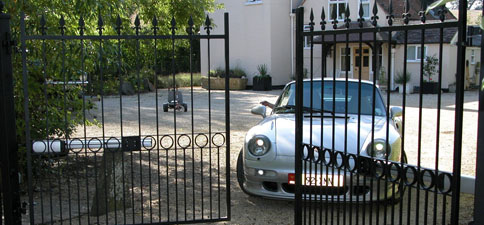 Taking Electric Gates from Design to Installation
Our comprehensive service means that you can trust our team to take your new electric gates from design to installation with the minimum of fuss. We can even offer ongoing servicing and maintenance to ensure that your gates always remain in the very best condition.
Working closely with you, we will help to ensure that you select the right gates for your specific requirements, and if you don't want to invest in new gates, we can even incorporate automation into existing gates to enable you to enjoy greater security for less
Why not integrate your gates with our range of access control and entry systems?
At TTSS we also install and maintain road traffic barriers.
Keep unwanted vehicle access to your site under control with a simple barrier system.
Our barriers can also be integrated with our full range of access control systems and ANPR cameras.
Our engineers have undergone intensive manufacturer training courses from our main product providers; BFT, FAAC and GIBIDI.
Call now: 01255 423345 or email: info@ttss.org.uk