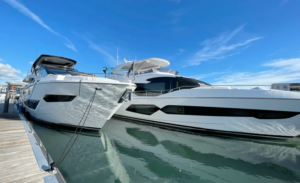 Marine Security concerns are inherent in 2 of 3 vessel owners. And this considerable demand faces the lack of choice when it comes to security equipment purchase. Regardless of the vessel size, owners have to choose between spending over £5,000-6,000 for a specialised system or adapting a car/motorcycle alarm system. The last one is quite a hassle because navigation, key vessel indicators, controls, and security are expected to be accessible on a digital dashboard and smartphone — anywhere, anytime.
TTSS have worked with many customers in the marine sector, installing systems either in dry-dock, marina pontoons or even out in the open ocean!
The TTSS mission to supply boats with a security systems which are compatible with the yachts' onboard software means that the system should:
support cellular connectivity
have a mobile app to report alerts
be straightforward to install
look slick to fit luxury interiors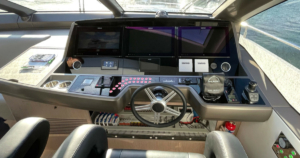 Complete Solution
TTSS use Ajax security systems integrated via a proprietary API with wireless detectors that fit both luxury yachts interiors and tight budgets.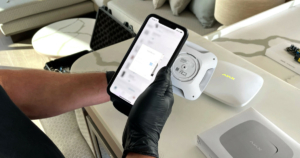 All detectors are equipped with SmartBracket panels — there is no need to disassemble the enclosure. To connect a detector to the system, an engineer just scans a QR code with the Ajax app, and the device is ready for configuring. The system parameters and detector configuration can be done from desktop or mobile apps. This system feature helps TTSS in providing remote technical support throughout the entire vessel lifecycle.
Battery power became another practical aspect. Wireless devices do not require a power supply from a vessel at all. In turn, Ajax control panels — hubs — can be connected to the onboard electricity via the 6 V or 12v power supply unit. Backup batteries and low power consumption ensure long-lasting protection with no additional maintenance. Depending on the model, hubs support 2G/3G/4G SIM cards and Wi-Fi providing stable connectivity — no need to purchase and install extra communication modules.
To integrate security system management with vessel software, Ajax provides engineers with the Enterprise API. This API allows to display the security information as it is available in the Ajax apps:
System settings and devices configuration
Security groups information
System users and their permissions
Event feed
Security modes
Power supply statuses
Surveillance cameras streams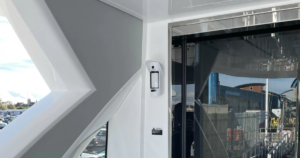 The TTSS Marine Security System also utilises detection with built-in visual verification. A camera is built into the motion detector which, when triggered, takes a series of images of the cause of the alarm activation and sends them through to user mobile app for complete peace of mind.
There are many detection devices available and suitable for the marine application ranging from door protection, smoke detection, acoustic glass protection to name a few.